Hello everyone,
Jack here – I wanted to give you an update as to what's happening at FWX Gyms, the plans we have in place and how we can still help you. 
All FWX Gyms are currently open. We are doing everything we possibly can to follow government guidelines (Spray and Cleaning) – Each day the gym is being cleaned by the hour, the staff are following set protocols and we have it under control. 
Each Gym manager is on-site in the core hours – If you have any questions Matt, Chris and Killian will be able to help or drop us a call 01926 859 488.
Personal Training – Continues as per normal. We monitor all staff daily to make sure they are fit to work, and we have set protocols in place for Personal Training session safety. Each of the trainers is working and diaries are still running as normal too! – Please keep booking in, staying fit and healthy – We launched an offer yesterday – 25% OFF Personal Training packages – No deposit needed and 2 split payment options – They do not expire and you can start now or when you are ready.
With advice from the Government, we will be reducing our class timetable from Monday. Each Gym will still have classes running, but we need to reduce this to follow the guidelines. 
Click here from Friday afternoon to see the changes – Also, please remember to book via the Member Me+ app. Limit spaces apply. 
We shall be launching Outdoor classes from this Saturday – This Saturday MetCon at Kenilworth will be outdoors – Meeting at 9AM @ Abbey Fields car park CV8 1BN – ANYBODY IS WELCOME AND IT IS FREE (SO BRING FRIENDS, FAMILY AND KIDS).
In terms of members coming into the gym, yes we are a small close-knit community. We do provide cleaning spray on-site, but we are asking If you do have your own, please bring this along and continue to wash your hands and use the spray.
If you are self-isolating – we have created a private Facebook group for you – CLICK HERE to join the group and stay up to date with me, FWX and free home workouts.
Lastly, THANK YOU – Myself and the team have been completely blown away from the support and help from you all. FWX is built on an amazing community, and we are doing our best to keep it active – Let's get over this hurdle together and battle on!
Jack 
Have you heard about FWX Gym's exciting 80 Day Challenge? This was one of the gyms first-ever Personal Training packages that changed the face of fitness in Warwickshire. To this date, it has helped clients lose a combined total of over 300KG! .. Pretty Amazing right?
So what's it all about?
In 80 Days, we want you to not only look the best you have ever looked but feel confident enough to walk into any gym, workout and know exactly what you are doing.
The package helps you to lose weight, become stronger and focus on your all round fitness levels. Have a look at just how amazing some of the transformations can be below!
The 80 Day Challenge includes: 2 or 3 sessions for 12 weeks, 1-2-1 Coaching, Nutritional help, and support plus all your key body stats took every other week.
Let's melt the fat away together – www.fitness-worx.com/personal-training-packages/80-day-transformation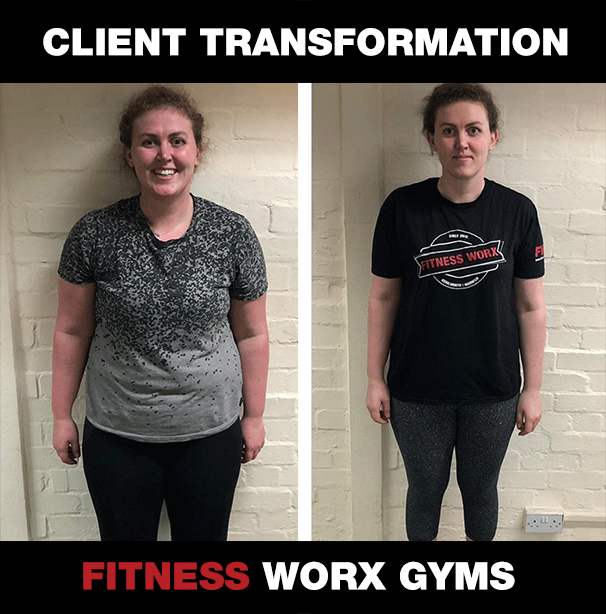 Do you have spare time in your life? – Why not check out the FWX YouTube channel. Each week Jack uploads weekly content around the gym, training and life.
Visit and subscribe here ➡️ www.youtube.com/fitnessworxtv
If you are thinking about joining FWX Gyms or maybe looking at changing gyms, now is the perfect time to take up our 3 day trial pass. This includes access to all FWX Gyms in Warwickshire + Unlimited access to the Classes weekly!
Click here now – www.fitness-worx.com/free-pass 
Are you already a member of Fitness Worx Gyms? – Recommending a friend to us is now beneficial to you.
If someone you know joins through a recommendation, you are the friend will receive a 1-2-1 joint Personal Training session on us.
For more information, please contact Phoebe on 01926 859 488 or upon signing up, tell the front of house team!
Fitness Worx have now launched brand new timetables at all FWX Gyms – We have now added Stretch and Flex plus The Lifting Club to the timetables too.
If you are a member, please remember to book via the MemberMe + App.
If you are thinking about joining, please click here to email the team!
Our next Personal Training Academy is now live for 2020 and you can book on for just £200! – Also below, you will find information about our 2020 CPD Spin and Kettlebell courses.
So what actually is the FWX Academy? – www.fwx-academy.com
Fitness Worx Gymsalong wiyh Origin Series brings you 2 fantastic joint qualifications. Origin Series is an elite group of qualified personal trainers and industry specialists with over 25 years of experience
You will gain your Level 2 and 3 Personal Trainer qualifications, which are professionally recognised by Active IQ and endorsed by REPS – The course is aimed at anyone looking to start a career in the fitness industry or interested in fitness itself. It is very rare to find these 2 together for the one price, so this is not to be missed.
The Course Dates to attend in Southam:
13th / 14th / 27th / 28th June – (classroom & practical)
11th / 12th / 25th / 26th July – (classroom & practical)
8th / 9th August (practical weekend)
CURRENT FWX MEMBERS THIS ONE IS FOR YOU 🙂 – WE WANT TO HELP YOU SMASH 2020 – From Monday 13th January we shall be having open Health Check time slots at every FWX Gym.
Come and get your complimentary body stats taken (with a tracking card) by one of the FWX Coaches – We shall also be giving you a free 6-week training program to follow too after they are done.
✅ AVAILABLE AT FWX KENILWORTH, WARWICK, AND SOUTHAM.
Want a time slot next week?
Please email enquiries@fitness-worx.com with a preferred time and date
Fitness Worx Gyms WILL be open over Christmas and New Year – Below you shall find our opening hours. Please be safe and have a great time whatever you are doing!
23rd – 08.00 – 20.00
24th – 08.00 – 12.00
25th & 26th – Closed
27th – 08.00 – 16.00
28th – 08.00 – 16.00
29th – 10.00 – 14.00
30th – 08.00 – 20.00
31st – 08.00 -12.00
1st – Closed
2nd – 06.30 – 21.30
Join for £5 is back for January – You get Unlimited access to FWX Gyms in Kenilworth, Warwick, Southam and Bidford and also Unlimited acces to the FWX Classes 7 days a week – If you would like to discuss or take up the offer please call Phoebe on 01926 859 488 or email phoebe@fitness-worx.com .
Let's get your 2020 going the right way 🙂